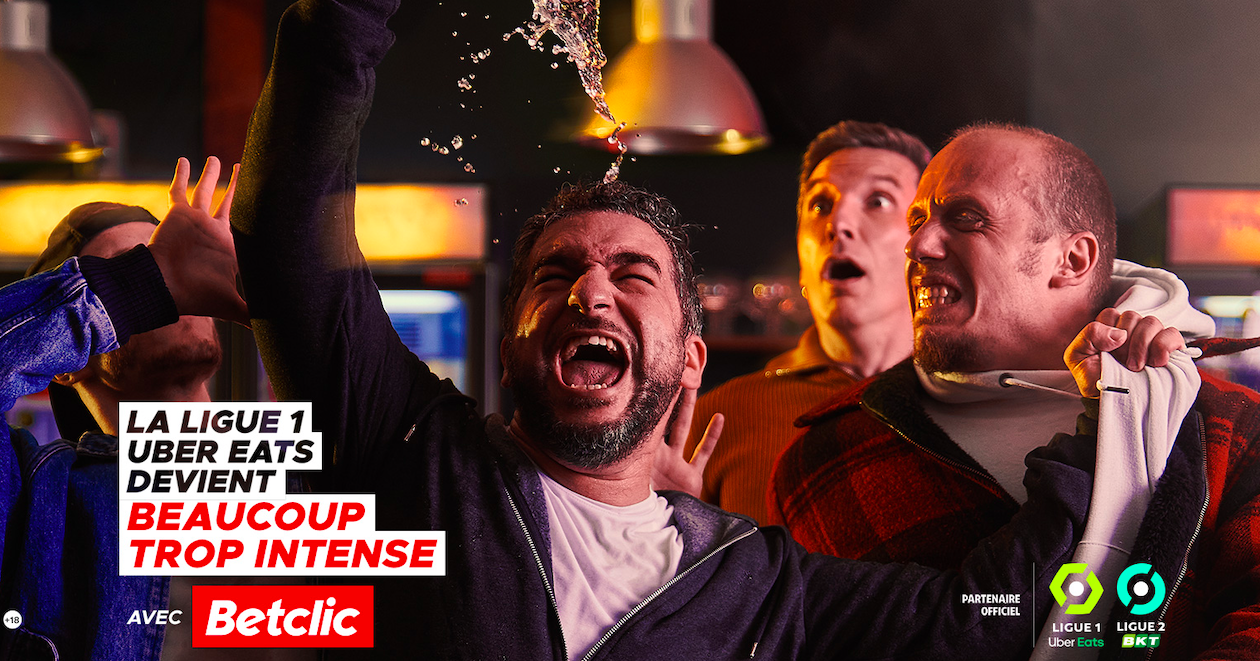 Betclic reinforces its position as a long-standing operator and leader in online sports betting by becoming the official partner of Ligue 1 Uber Eats and Ligue 2 BKT for the next 3 seasons.        
To launch this partnership, which came after a long period without any matches, the agency designed a 360° campaign to awaken and bring out the passion that lies within every football fan to make Betclic their favorite sports betting platform.
Because with Betclic, whichever team is playing, the score or number of goals, every match becomes as wild and exhilarating as a final and WAY TOO INTENSE!
This intensity is palpable in this powerful campaign and also comes to life in a TV film showing how intensely the better prepares until he celebrates his victory euphorically – the result of the Betclic effect. To amplify the Betclic effect even further, 4 TV billboards were produced, comparing a world WITHOUT Betclic and a world WITH Betclic, where everything becomes way too intense for the better, while all those around him are mesmerized by so much excitement. This effect was also showcased in a poster campaign depicting the difference between betters and spectators.
To coincide with this launch campaign, a social media tool was developed to coincide with the two most thrilling days of the start of the championship.
In the lead-up to the Classico, betters were invited to turn up the heat on Twitter with a live poll with €10K freebets to release. The excitement heated up so much (34,000 entries) that the brand had to cool things down by launching the anti-odor, anti-nerves and anti-stress "Betclic Dry" deodorant to help you keep your cool while placing your bets on the match! Betclic Dry was promoted with a tongue-in-cheek film (please read the legal terms) and an amplification campaign that involved sending box sets to influencers and the media.
Before the 'Olympico' match, lots of influencers were also activated and invited to place their "Way Too Intense" bets on the day's matches. Throughout the weekend, they shared completely wild bets on their social media with prizes for betters if they won. A new way to increase the intensity and euphoria that surrounded a hotly awaited day of Ligue 1 Uber Eats excitement.
Tasks
Cross-channel campaign (TV, print, radio, digital)
Advertising production
Social media strategy
Brand content
Awards
🥉 Grand prix Stratégies du digital 2021 : Bronze, cat. 360 device.