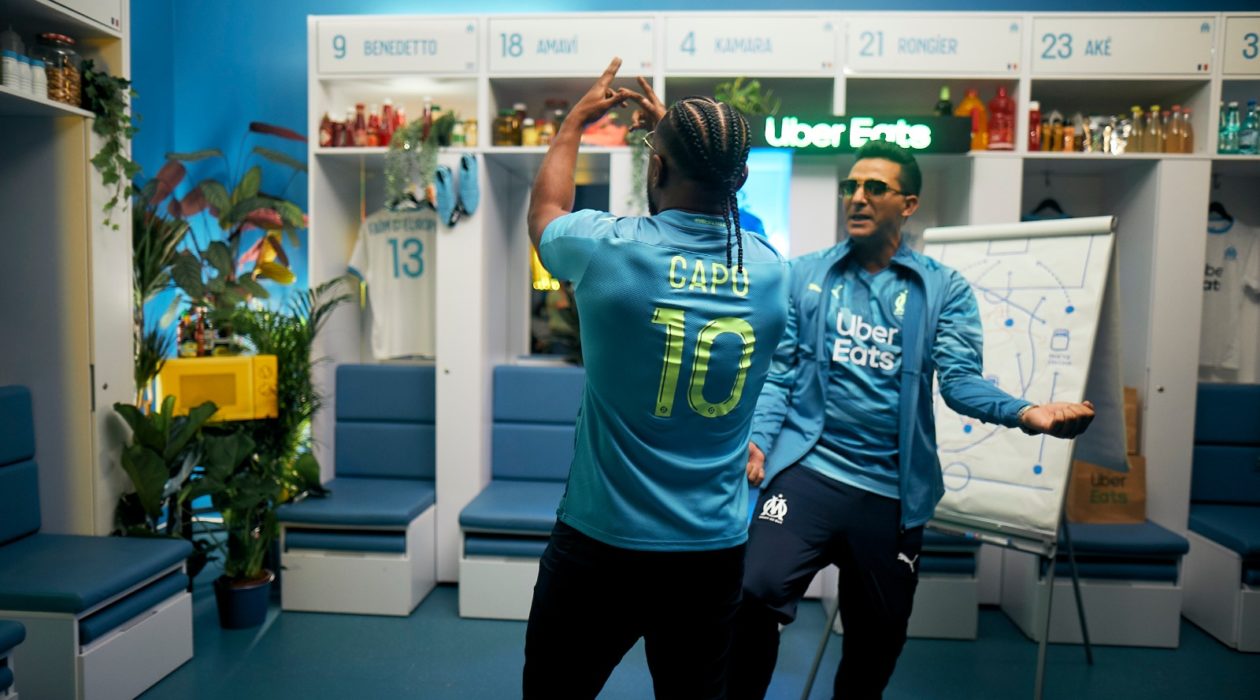 OM back

in the

Champions

League

In Marseille, everything happens very fast. A simple phrase can become the city's motto in record time, the Vélodrome's stands can spell out the words of a song ("C'est Marseille bébé").
In the context of Marseille's big personality, Uber Eats, OM's jersey partner, asked us to design a campaign celebrating the club's return to the Champions League.
The brand had to be able to find its place and grounds for legitimacy. It had to be spot-on from a sporting and professional perspective, pertinent for the supporters and, of course, surprising, as it had to live up to the incredible creativity expressed in Marseille.
The "Faim d'Europe" (Hunger for Europe) concept was born. And would be serialized in the run-up to the first Champions League group match. The aim was to become the anthem for the Marseille club's European return.
Step #1: the trigger
Saturday, October 17, 11 p.m. – After OM's win (3-1) in the championship against Girondins de Bordeaux and just before the big Champions League comeback.
For credibility, the spark had to come from the players. So it was Jordan Amavi, the Marseille defender and goalscorer in the match who sparked things off, affirming his "Faim d'Europe" in an interview. The message to the people of Marseille was launched.
La réaction du buteur du soir @JordanAmavi 🎙😊#OMFCGB #DroitAuBut #FaimDEurope pic.twitter.com/oPLv7aOocN

— Olympique de Marseille (@OM_Officiel) October 17, 2020
Step #2: widespread enthusiasm
Saturday, October 17, 11 p.m.– Sunday, October 18, 8 p.m.
In the 24 hours following the player's interview, "Faim d'Europe" was then taken up by figures from Marseille to boost the natural excitement generated by a European event of this kind.
Reality TV stars (Kevin Guedj, Greg Yaya, etc.), famous Marseille figures (Radoudou, Melha Bedia, Redouane Bougheraba, etc.), and players (Dario Benedetto, Valère Germain, Jordan Amavi, etc.) reached a total of more than five million people on their social media with a common message: "Faim d'Europe."
Two iconic artists from the Marseille urban scene rounded off the collective peer momentum, displaying their "Faim d'Europe" as well: Alonzo and L'Algerino, two rappers with a total of several billion views on YouTube.
Step #3: the Alonzo & L'Algérino by Uber Eats collaboration
Sunday evening 8 p.m. – Wednesday, October 21, 8 p.m.
On Sunday evening, OM and Uber Eats posted a short video in which Alonzo and L'Algérino turn up at the Vélodrome on bicycles, hungry for Europe and set a date for the next day with Marseille fans.
Supporters de l'@OM_Officiel, on vous a entendu !

Vous avez #FaimDEurope, vous allez être servis ! Demain c'est @Alonzopsy4 et @ALGERINO_OFF qui se chargent de la livraison. 💨🎤 pic.twitter.com/vlzkBt0pdu

— Uber Eats France (@ubereats_fr) October 18, 2020
On Monday morning, the video for "Faim d'Europe" by Alonzo and L'Algérino (feat. Uber Eats) was released on OM's YouTube channel, firing up the Marseille community with over 500 K views in just a few hours.
It shows the two rappers in a dressing room reworked in the style of a kitchen, taking on the role of coach for the players to achieve a common goal: satisfying the Marseille fans' hunger for Europe. Needless to say, the whole thing is imbued with Marseille's characteristic sense of pride and self-deprecation that knows no bounds. So don't be surprised to see the different protagonists working on putting together a "Faim d'Europe" order…
Step #4:  Exclusive "Faim d'Europe" Tacos (with Alonzo & L'Algerino)
Echoing the campaign and the three upcoming Champions League group matches, Uber Eats launched the "Faim d'Europe" menu with three exclusive tacos to be enjoyed every evening that OM has a European fixture. Europe is so good that you can literally savor the taste of it with Uber Eats!
Each taco will be customized to reflect the culinary traditions of the home countries of OM's opponents in the group phase:
"Greek Recipe" for the matches against Olympiacos, on 10/21 and 12/01
"English Recipe" for the matches against Manchester City, on 11/03 and 11/25
"Portuguese Recipe" for the matches against FC Porto, on 10/27 and 12/09
In short, with Uber Eats and OM, we're Hungry for Europe! And it's (really) good to love football.
// Credits //
LAFOURMI TEAM: Creative Directors: Xavier Yönter & Julien Hablainville // Account Director: Jeremy Nessim // Creative Lead & Copywriter: Clément Cimarro // Strategic Planning Director: Jordane Rabute // Project Manager: Jordan Ferrandis // TV Producer & Art Buyer: Barbara Vaira – PROD TEAM: Production: HVH // Director: Karim Ansel // Producers: Jim Schachmes & Rodolphe Hessmann // Line Producer: Leo Van Roy // Director of Photography: Bertrand Marin // Post-production: HVH // Post Producer: Damien Fernandez – SOUND TEAM: Music: Alonzo & L'Algerino // Artist partnership: OnlyPro // Sound production: Dj Spike Miller – PHOTO: Antonin Grenier – INFLUENCE: Trends Paris                     
1.2M views
in 2 days on OM's YouTube channel
#2
in YouTube trends on the launch day
+10M people reached
across the campaign's digital ecosystem
Tasks
Identity
Advertising design
Advertising film
Social media campaign
Brand content
Influence