LaFourmi recognized at the 2018 Grand Prix Stratégies du Sport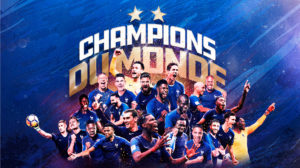 LaFourmi won the gold trophy at the 2018 GRAND PRIX STRATÉGIES DU SPORT in the Integrated Communication Operations category for the "FIERS D'ÊTRE BLEUS – COUPE DU MONDE 2018" (proud to be blue – 2018 World Cup) campaign in partnership with the French Football Federation (FFF).
The aim of the GRAND PRIX STRATÉGIES DU SPORT is to highlight the best communications strategies implemented by brands, using sport and rights holders, media, etc. in the sport business market.
Two years after the "Euro 2016" campaign, which won a Grand Prix Stratégie du Sport at the time, LaFourmi teamed up with the FFF once again for the entire communications plan to support the Blues before and during the World Cup. Its strategic, creative and operational support was recognized by the jury.
LaFourmi implemented an ambitious strategy capable of mobilizing all stakeholders and breathing new life into the "Fiers d'être bleus" (proud to be blue) support movement.
A multi-channeloperational scheme was designed to amplify the impact of the movement and to unite and unify the nation. It included the redesign of the "Fiers d'être bleus" identity (signature designed by the agency), a mobilization scheme for amateur clubs, a match promotion campaign, e-influence, near and live marketing, and a digital and social media strategy.