Crédit Agricole : "Le sport comme école de la vie" (sport, the university of life)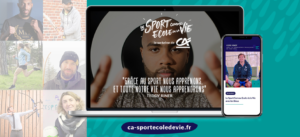 Crédit Agricole launches the webzine "LE SPORT COMME ÉCOLE DE LA VIE" (SPORT, THE UNIVERSITY OF LIFE) to promote its social responsibility initiatives at a national level. It aims with « Le sport comme école de la vie » at bringing together all the Group's national and regional sports partnerships – in football and Judo in particular –, while relying on the notoriety of Teddy Riner, their ambassador.
In order to promote the Group's engagement with the community, LaFourmi, who supports Crédit Agricole as a consulting agency in the long-term definition and implementation of its sponsorship strategy on digital and social media, designed the digital platform "LE SPORT COMME ÉCOLE DE LA VIE," a community webzine that gives a positive and inspiring take on community life and those who build it through sport.
To promote the brand and its values while highlighting its positioning as a socially responsible bank committed to supporting local communities and the French population, the strategic approach devised by LaFourmi was to give breadth and depth to the brand's message by developing inspiring, entertaining and meaningful content. This strategy is based on the implementation of multimedia contents such as videos, documentaries, podcasts, portraits, editorial content, etc. which place people and experiences at its center.
Discover the digital platform here!