LaFourmi helps promote the UNFP French Football Trophy Ceremony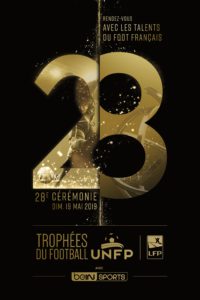 For the fifth consecutive season, we have partnered with the UNFP to design and produce a cross-channel solution for the prestigious UNFP Football Trophy Ceremony.
For the 2019 edition, LaFourmi designed a creative concept that gives pride of place to the live content of the winners, but also to the festive nature of this unmissable event with the whole football family.
This high-quality visual identity was developed for a wide range of media: event organization, print media, web and social networks, etc. Before the event, a multi-channel strategy helped create the buzz and support the increasing media coverage while bringing on board media, players, clubs and organizations, etc.
Sunday, May 19th, on the day of the event, a strategy based on live coverage and partnerships with influencers allowed us to give fans the opportunity to fully engage with this major French football event (prediction and voting tools, exclusive live interviews, quizzes, backstage videos, etc.). World Trending Topic over the past 4 editions, #TropheesUNFP has once again created the buzz and allowed the rollercoaster 2018-19 season to end with a bang.