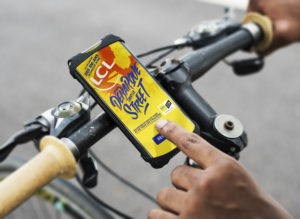 To coincide with the Tour de France and 100 years of the Yellow Jersey, LaFourmi is teaming up with Yellow Jersey official partner LCL on a phygital (physical meets digital) activity geared around a temporary street art event in front of three of its branches located along the race route in Paris, Reims and Toulouse.
The challenge for LCL is to make its mark on the towns hosting the start or finish of a stage by engaging its community and positioning itself as a bank for cycling enthusiasts and young urbanites, with offers specifically tailored to their lifestyle.
In a few short years, cycling has become an integral part of urban culture. So, to promote its partnership with the Tour de France, the urban bank is bringing cycling to the street.
LaFourmi called on three street artists: Grems, Céleste Gangolphe and Méro Raja as part of an initiative that promises to be every bit as fun as it is original; each of the artists has either performed or will be performing live in front of a branch while sharing their take on cycling in the city.
Each piece presents a different cycling activity: freestyle, lifestyle or sport, in the artist's unique style and making obvious reference to the Tour de France and the Yellow Jersey. The performances will be live streamed on social media, the rich and inspiring content being used to populate the feeds throughout the Tour de France.
Results:
–       5.6M impressions on LCL accounts during the campaign
–       880k video views during the campaign
–       30% engagement rate for the publications, including 3-second video views, and 9.45% including 10-second video views