Rugby becomes Crazy at the HSBC Paris 7s / Biarritz 7s!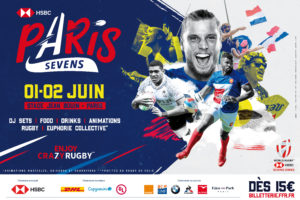 After having created the communication platform for the event and redesigned its graphic identity in 2018, LaFourmi hits the ground running and works alongside the FFR once again to revamp its entire promotional strategy.
Having taken place in Paris for the last 4 years, the French stage of the HSBC World Series is evolving in 2019. The best men's teams in the world still compete at the Jean Bouin stadium – June 1st and 2nd 2019 – but this year, women have their own tournament: HSBC Biarritz 7s at the Aguiléra stadium – June 15th and 16th 2019.
Two dates, two bastions of French rugby, but a unique positioning: "Crazy Rugby," combining sporting excellence and entertainment. The best rugby and fan frenzy produce a totally unique atmosphere.
Using a colorful and festive creative, a vast multichannel communication strategy (TV, OOH, presse, digital, social) adapted to local targets has been developed, with the objective of building the reputation and attractiveness of the tournaments, as well as boosting ticketing revenues. The strategy will be supported by digital events to better engage with the fans and create a unique spectator experience.
A unique entertainment experience!