Stade Français Paris launches its new season ticket campaign with LaFourmi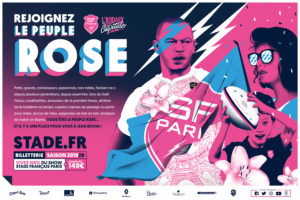 After helping Stade Français Paris with its communication and revenue development strategy throughout the 2018-2019 season, LaFourmi continues its collaboration with the Club heading up the deployment of the 2019-2020 season ticket campaign.
How to continue attracting season ticket holders and capture new audiences in a sporting context that still needs consolidating? Our strategic approach takes advantage of the Club's mindset: its unique and daring approach is a totally relevant lever to attract both season ticket renewal and recruitment, a unique starting point to offer an experience that goes beyond a simple rugby match.
Our creative approach, meanwhile, highlights the uniqueness and popularity of the SFP community: "The Pink People." This popularity gives added value to the Club and gives it proximity, generosity and passion, as well as a strong appeal among all target audiences. Using 3 visuals, the creative mixes a modern, unique and inspiring visual approach with clever typography inviting the target audience to immerse themselves in the "Pink world."
A vast multi-channel communication campaign (advertisements, print, CRM, digital and social media) was created with this approach in mind, using a series of events and messages optimized according to the targets and highlighting the wide range of products available. ROI being the major objective.
Join The Pink People!