Neymar Jr. drives them crazy with FUTURE Z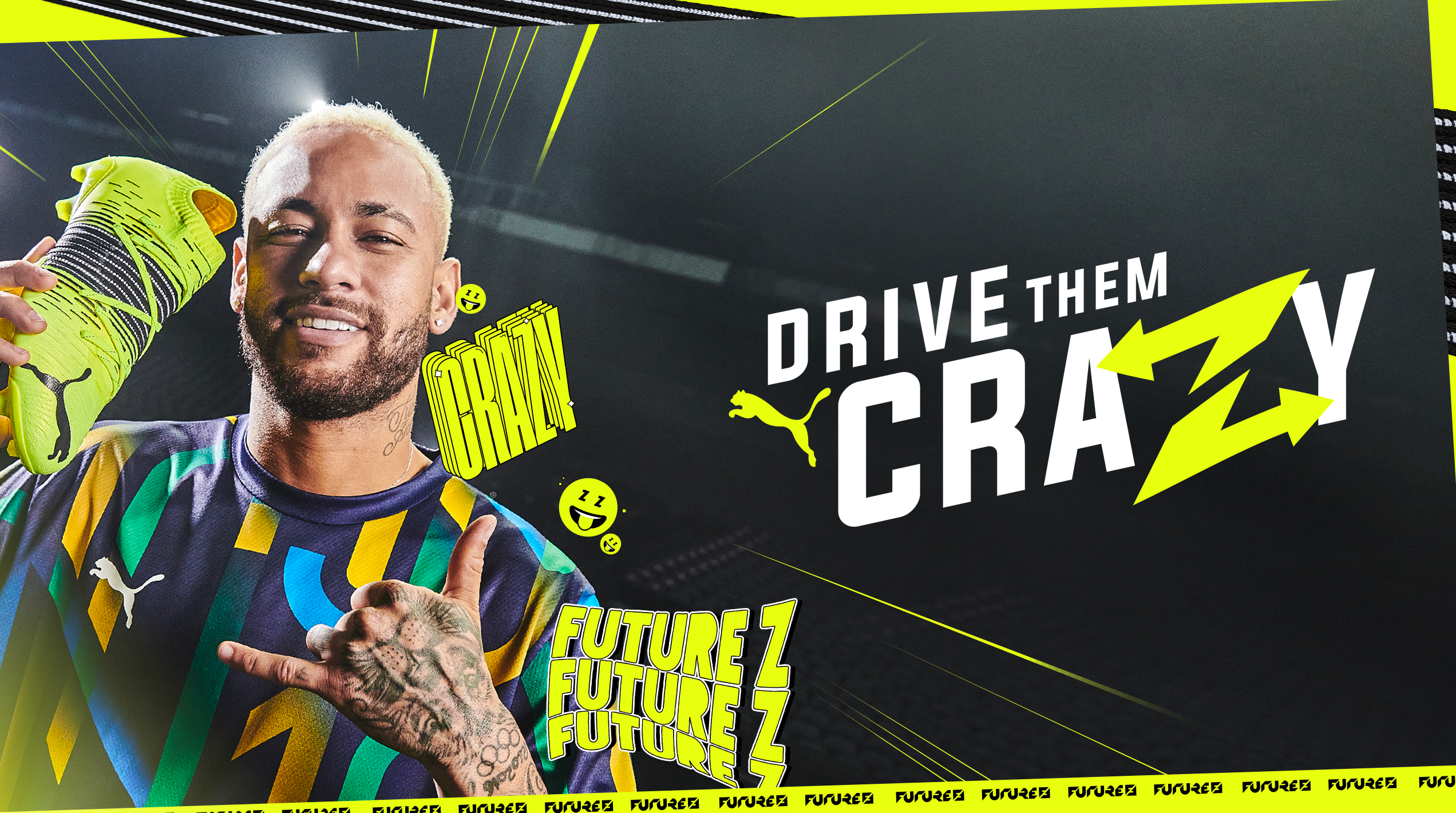 PUMA has launched its "GAME ON" pack with the new PUMA FUTURE Z boots in an international campaign designed and organized by the agency around the "Drive Them Crazy" concept.
In this first campaign featuring Neymar Jr. since he signed with the German sports apparel brand, the Brazilian icon is the perfect model for FUTURE Z, which he co-created.
This crazy and off-the-wall campaign is inspired by a unique personality and flair, combining skill and creative madness, which leaves no one indifferent.
Wearing the FUTURE Z boot, a technological revolution combining a lightweight material and agility for perfect handling of the ball, Neymar Jr. will drive the whole world (even more) crazy! That is what "Drive Them Crazy" is all about!
We featured Neymar Jr. in a totally crazy film, which lasts 1 minute 39 seconds, shot by Adrien Lagier and Ousmane Ly (ADEUS – the rap video geniuses in France) with the letter "Z" as the central element. We are plunged into a mind-boggling universe, with dynamic dribbling from the Brazilian No 10 leaving an impact around the globe. When Neymar Jr. wears FUTURE Z, the whole world goes crazy and his signature "Z" leaves its mark on everyone who experiences the astonishment and humiliation that Neymar Jr. sparks.
Eyes popping out, bones knocked out of place, a stiff neck… That is the "Drive them crazy" effect!
The film is accompanied by an original piece composed by Louis (Divine Music) and performed by rapper Tracy Desa. Custom-written lyrics with the rhythm of highly dynamic electronic Drum and Bass music and the infectious beat of the "Drive Them Crazy" slogan, which brings out Neymar Jr.'s elusive side and the film's "crazy" atmosphere.
The 100% digital and social media campaign is based on a very robust package featuring the film and additional content on Neymar Jr.'s social network accounts and PUMA contact points.
A 'Z' goal celebration – the campaign's real signature – performed by Neymar Jr. was also produced. It can be seen in the closing seconds of the film and on different content (photo/video).