Crédit Agricole celebrates women in sport!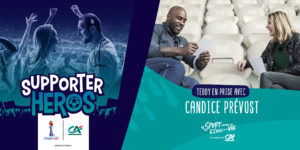 To celebrate the Women's FIFA World Cup France 2019™, of which Crédit Agricole is a national sponsor and as a Major Partner of the French women football team, the bank celebrates women in sport with a campaign that highlights the positive impact of sporting values ​​on women.
The primary episodes of the broadcast "TEDDY EN PRISE AVEC…" and the podcast "SPORTRAITS", two flagship portraits included in the lifestyle online series "LE SPORT COMME ÉCOLE DE LA VIE", designed by LaFourmi as part of Crédit Agricole's strategy for activating its sports partnerships, are dedicated to two great French players, Candice Prévost et Marinette Pichon. Two unique careers. Two sportswomen who have had a huge impact on the rise of women's football in France. Two moving portraits of women who have succeeded through sport and are now committed to pass on their values to the younger generation: trust, selflessness and openness to the world.
LaFourmi also supports the digital activation of Crédit Agricole's partnerships with the FFF and FIFA. To get behind the French women football team players and create a buzz throughout the competition, LaFourmi has designed PLUS PRÊ(T)S DES BLEUES and SUPPORTER HEROS, two gaming platforms aiming at engaging a family audience, accessible via social networks @tousuncotefoot et @CreditAgricole, on which participants can win insights into the Women's French Team throughout their preparation and 100 match tickets throughout the competition.