Puma makes a come-back in the running market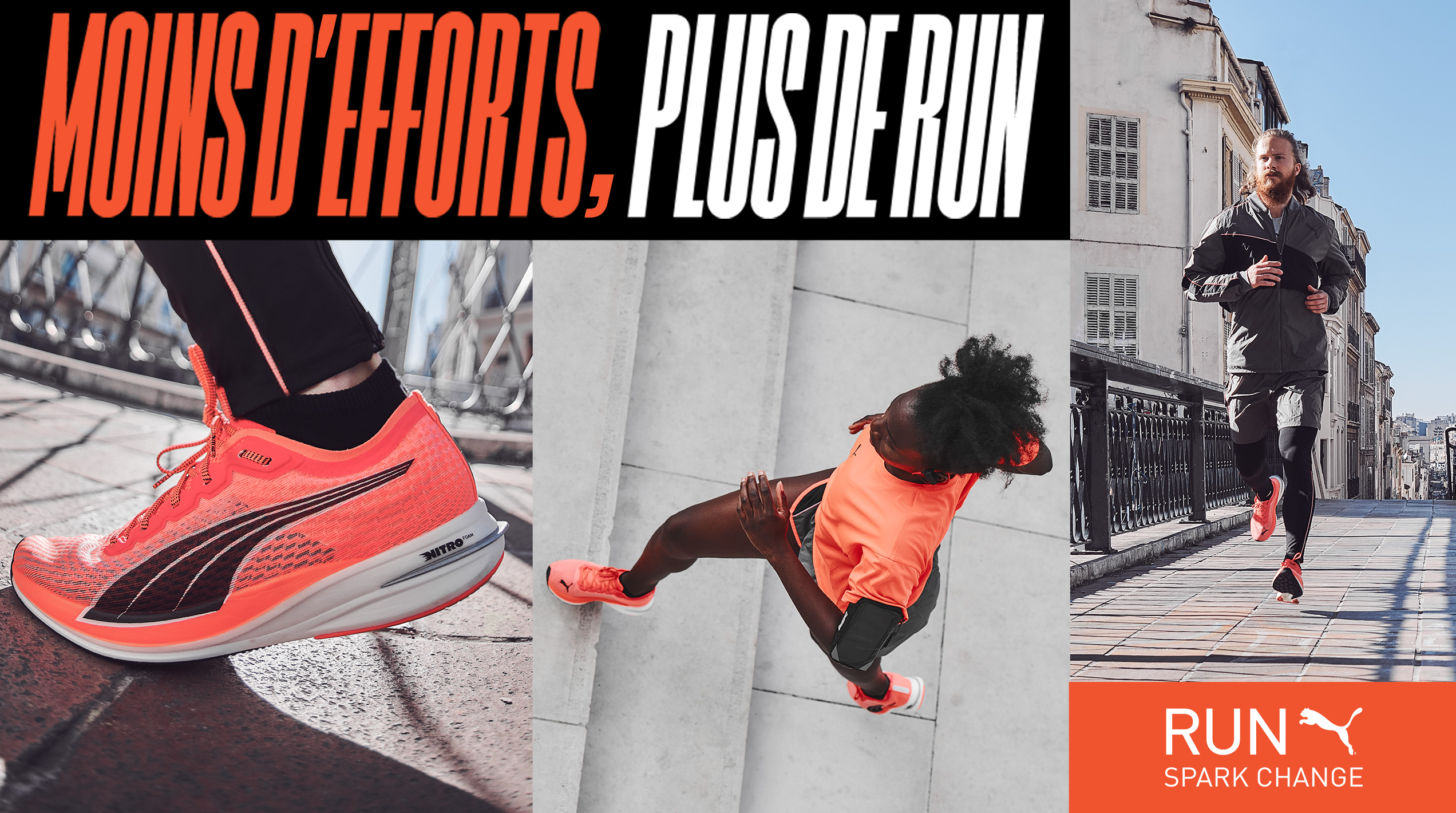 After having developed the brand's positioning strategy in the running segment in collaboration with the Puma marketing teams, we are now supporting the launch of the new NITRO line (new innovative technologies allowing better performance under the best conditions) with the claim "Moins d'efforts, plus de run" (Less effort, more running).
The brand entrusted us with the development and execution of both the campaign and content supporting the line's launch.
We have therefore created an inspirational film written and directed by Clément Cimarro, with a voice-over by Abd Al Malik, the Strasbourg rapper, winner of 4 music awards and who has just released his eighth book "Reconciliation."
Produced by HVH and shot in Marseille, the film shows runners with different motivations and running routines in an up-close visual atmosphere, interspersed with sequences captured on 16mm film.
The cast and styles were also photographed in situ so the visuals can be used in all of the brand's communications, whether at points of sale, on social media or in PR.
LAFOURMI has therefore developed a powerful package in order to ensure the brand's high visibility when making a come-back in the running market on March 4. Our strategic expertise and our creative touch allowed us to design a range of truly unique content.
CAMPAIGN CREDITS "PUMA RUNNING"
ANNONCEUR : PUMA FRANCE
Responsables annonceur :  Benoit Menard, Clément Huber
AGENCE : LAFOURMI
Creative lead : Clément Cimarro / Copywriter : Clément Cimarro / Direction planning stratégique : Jordane Rabute / Responsable de compte Puma : Quentin Deremble / Direction agence : Céline Jobert & Thibaut Cornet / Directeurs de création : Julien Hablainville, Xavier Yönter / Directeurs artistiques Print : Coralie Mapouata-Barlerin, Charles Lambert, Thibault Greffin / Motion designers : Laurent Marin Dubuard, Khammy Vilaysing / Photographe : SevenOneThree
PRODUCTION : HVH 
Producteur : Jérémie Poppe / Réalisateur : Clément Cimarro (agence LAFOURMI) / Directeur de la photographie : Bertrand Marin / Directeur de production : Léo Van Roy / Directeur de post-production : Damien Fernandez  / Monteur : Sully Robert  / Étalonneur : Thomas Canu  / Post-Production : HVH / Sound Design : Christophe Menassier / Musique : Fabien Panaro