Ensemble pour les rendre plus fortes
For the 12th consecutive year, Crédit Agricole was a major partner and the number one supporter of the French national team Les Bleues in the Women's Euro soccer tournament. For the competition, which was held in England from July 6 to 31, Crédit Agricole commissioned LaFourmi to create a 360° campaign, with fan fervor at the heart of the message. 
The campaign aimed to bring ALL French people together behind Les Bleues and rally enthusiasm around the Crédit Agricole Group's social ambition: "Acting every day in your interest and that of society". This message of cohesion was the film's signature: "Because together we are not only stronger, we make them stronger". 
Each element reflected the decisive role of Crédit Agricole and its desire to be an actor of change: 
The film celebrated the supporters as the spearhead of the campaign while the print campaign will ran throughout the competition through a series of responsive visuals featuring

Les Bleues

.

The social strategy was designed to raise pressure and engage fans in a playful way on social networks.

A two-part solidarity initiative that reflects Crédit Agricole's desire to ACT:
Sports recycling center: An eco-responsible project: more than thirty eco-boxes were placed in Credit Agricole SA's regional branches and headquarters to collect unused sports equipment from employees and customers. The equipment was then refurbished and redistributed by the Recyclerie's network of solidarity stores.

Training "Académie Diomède": An inclusion project with the young players at the Académie Diomède, who, after a visit to Clairefontaine where they met the players, were invited to a Euro match in England. 
An experience documented by a mini web series of 2 episodes: https://www.instagram.com/p/Cfn_Cw-jj6m/
A large media plan broadcast on TF1, online, on social networks and in-flight on the channels myTF1, myCanal, Eurosport, L'EQUIPE. The print campaign was in all of Crédit Agricole's branches nationwide, on social networks, and in press inserts on L'Equipe, L'Equipe Magazine, France Football and SoFoot.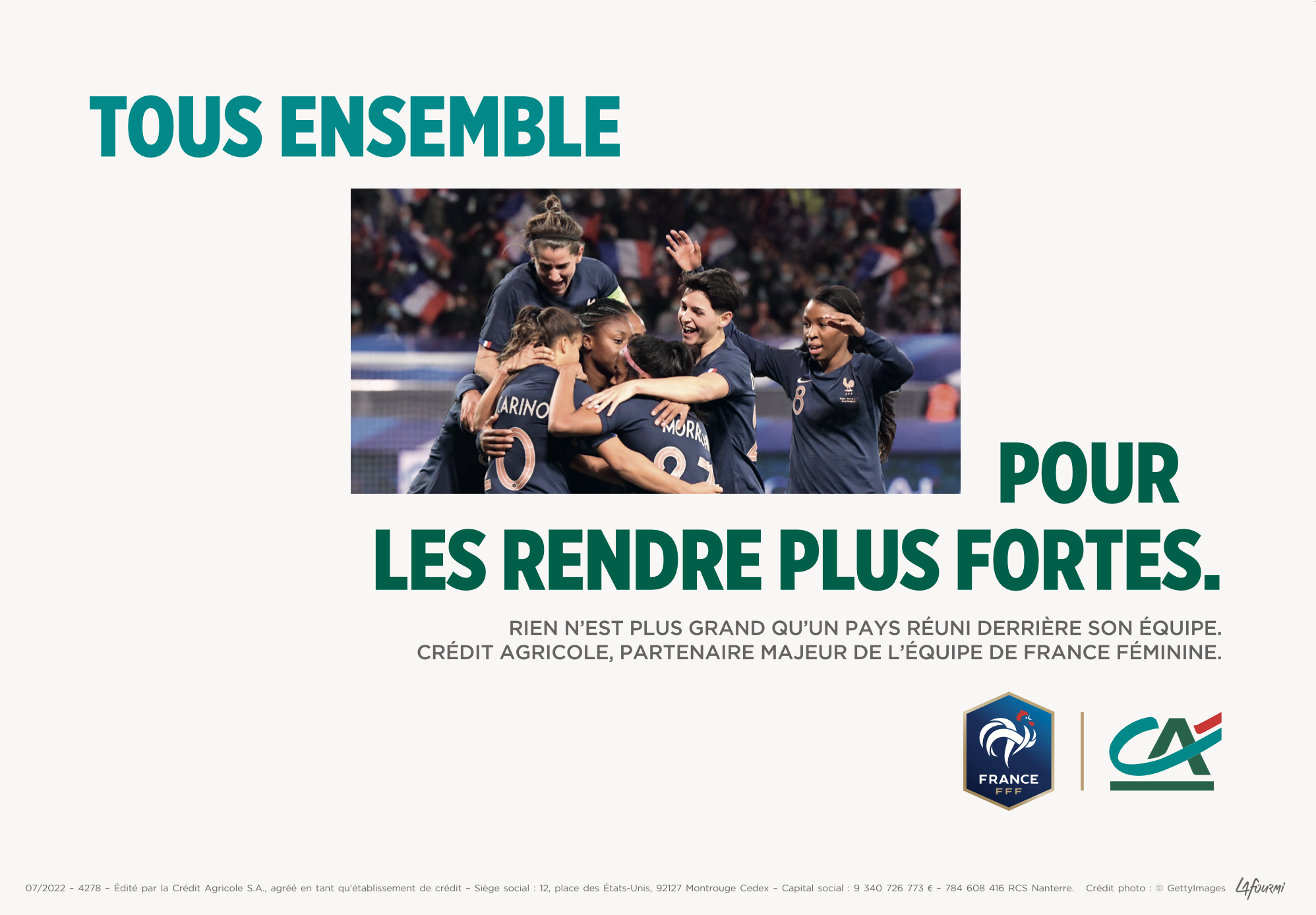 On the social network side, a series of activations has been set up on @Onatousuncotefoot, relying in particular on two highlights owned by the CA "dream training" and "VIP training at Clairefontaine".